"WHEN YOU TALK ABOUT CHAKRAS, YOU TALK ABOUT EVERYTHING!" ~ SRI HARISH JOHARI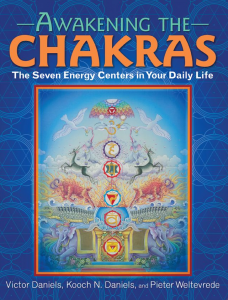 AWAKENING THE CHAKRAS:
THE SEVEN ENERGY CENTERS IN YOUR DAILY LIFE
by Victor Daniels, Kooch N. Daniels, and Pieter Weltevrede
What is this unique new book about?  What are its special features? What can it do for you? In short, it's about how to understand and use the ancient chakra system in 21st century daily life. Filled with  features and insights not found in any other book about the chakras, it goes places no other book has gone before.It also offers additional insights and methods of meditation and raja and jnana  yoga, many of them useful in Western psychology as well as Asian yoga and meditation practices. Although the three authors have integrated knowledge from Western Psychology with methods and insights from Tantra Yoga and Vedic Traditions, these pages offer useful insights to people who follow any religious or psychological path.  We had no interest in just rewriting what others had written in our own words. Rather, we wanted to truly advance contemporary thinking about chakras. We also wanted to make it highly accessable and useful for regular folks who hope to brighten their lives, for accomplished yogis, and for professional counselors, psychotherapists, and personal coaches. We think we've done that. The first thing you notice about the book is how beautiful it is.  The illustrator and coauthor Pieter Weltevrede is one of the world's leading artists in the Indian classical tradition. (He's Dutch–maybe it's in the DNA of people in the Netherlands.) We recommend the hardback rather than the e-book because it makes a wonderful coffee-table book — but the information is all there in the e-book if your bookshelves are full.  Victor is a Western psychologist with a Ph.D. from UCLA who spent more than four decades as a university professor and was his psychology department chair.  Kooch holds an M.A. in psychology and has a deep background in mystical and occult studies. All three of us have gathered information for this book in India as well as in Europe and America.