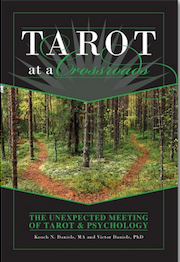 NEW!  JUST OUT IN NOV, 2016.  TAROT AT A CROSSROADS:   
THE UNEXPECTED MEETING OF TAROT AND PSYCHOLOGY, by Kooch N. Daniels & Victor Daniels (Schiffer Publishing, Atglen, Pennsylvania)
This unique book tells Tarot readers and people who read the cards for themselves how to use up-to-date psychological knowledge in their work. It also describes how psychotherapists, counselors, personal coaches, social workers and other people in human services how to use visual imagery in their work — both Tarot cards and any other imagery they wish to use, including materials they themselves create or special populations.  Since 2012 the authors have presented its central ideas and methods to enthusiastic audiences at both tarot and psychotherapy conferences.
.
MATRIX MEDITATIONS:  A 16-week Program for Developing the Mind-Heart Connection., by Victor Daniels and Kooch N. Daniels.(Destiny Books/Inner Traditions International)
In retrospect, we might better have subtitled this a 16 month or 16-year program. And no, it's not related to the movie. "Matrix" refers to the structure of the book.  Its second part is divided into 65 "cells" that are comparable to the 64 hexagrams of the I. Ching.  And like the I. Ching, it can also be used as an oracle.  Unlike the I. Ching, every cell has both a brief narrative section filled with valuable insights, and a description of how to carry out a particular meditative or everyday awareness practice.
This book has two main parts.  The first, shorter part of the book describes what meditation does and how it works from a psychological perspective, with remarkable clarity and detail.
Other works:  Cover photos to be inserted soon:
Kooch & Victor Daniels: Tarot d'Amour — Find Love, Sex, and Romance in the cards.  Weiser Books.
Kooch Daniels:  The Art and Magic of Palmistry. See cybermystic.com
Kooch Daniels:  Sacred Wisdom of the Planets.  See cybermystic.com.
Kooch Daniels:  Theater of Karma:  A fascinating novel, keyed to the Tarot.
Victor Daniels & Laurence J. Horowitz:  Being and Caring, A Psychology for Living. (1976, 1984 1999) San Francisco Book Co., Mayfield Books, Waveland Press. Out of press, but used copies are available online at Amazon. The second edition is paperback only. The orange-cover 1984 version and blue cover 1999 version are identical except for the covers.  The first edition, which is significantly different, is paperback (red cover) and hardback. 
Pieter Weltevrede: An online gallery where you can view a wealth of his beautiful paintings.