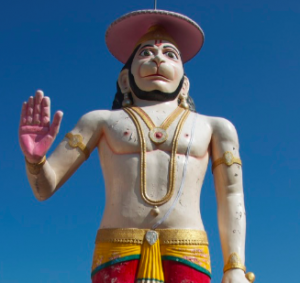 HANUMAN (in Indian mythology, an incarnation of selfless service) 
This is not just another book about the chakras that restates what others have written in different words. Starting with the contributions of the three principal 20th Century authorities on the chakras, C.W. Ledbdater, Swami Satyananda Saraswati, and our own dear teacher of many years, Sri Harish Johari (as well as the related ideas of Western psychologist Abraham Maslow), in this book's pages you will find all this:

THE RESULTS OF OUR PERSONAL INTERVIEWS, IN INDIA, AT ASHRAMS AND SPIRITUAL FESTIVALS, WITH RECENT AND PRESENT AUTHORITIES ON THE CHAKRAS.
.
THE PSYCHOLOGICAL ASPECTS OF EACH CHAKRA THAT OFFER HELP WITH PROBLEMS OF EVERYDAY LIFE AND LIVING; AND THE SPIRITUAL ASPECTS THAT OPEN DOORS TO REALIZE OUR HIGHER POTENTIALITIES.
.
WITH EACH CHAKRA, A UNIQUE "TABLE OF POSSIBILITIES" ANALYZES EACH CHAKRA INTO TWELVE TO FIFTEEN SUBDIMENSIONS. FOR EXAMPLE, A SUBDIMENSION OF THE THIRD CHAKRA FOLLOWS A CONTINUUM FROM "THE DOORMAT COMPLEX" AT ONE EXTREME TO "THE ALPHA COMPLEX" AT THE OTHER EXTREME, WITH A SPECTRUM OF POSSIBILITIES BETWEEN THEM.
.

A STRUCTURE FOR EACH CHAKRA THAT INCLUDES NARRATIVE SECTIONS TITLED "THE ESSENCE," "THE BRIGHT SIDE," "THE DARK SIDE," "PAST ROOTS" (of your issues and potentials), PERSONAL TRANSFORMATION, AND RELATIONAL TRANSFORMATION.
.
A COLOR YANTRA  (THE VISUAL EQUIVALENT OF A MANTRA) GRACES EACH CHAPTER, ALONG WITH A LINE DRAWING THAT SHOWS ITS DETAILS CLEARLY, AND A DESCRIPTION OF THE MEANING OF EACH SYMBOL IN EACH ILLUSTRATION. Once you've absorbed this, you'll never look at an Indian painting in quite the same way again. You'll see how Vedic symbolism connects with universal principles common to all religions and spiritual traditions.
.

 WE WANTED TO CREATE A BOOK THAT IS BEAUTIFUL AS WELL AS INFORMATIVE. WE'D LIKE YOU TO SMILE AND FEEL GOOD EVERY TIME YOU PICK IT UP. TOWARD THAT END, ILLUSTRATOR AND CO-AUTHOR PIETER WELTEVREDE IS ONE OF THE WORLD'S FOREMOST PAINTERS IN THE CLASSICAL ARTISTIC TRADITION OF INDIA.
.

WHEREVER WE FOUND OUR  KNOWLEDGE FROM OUR PAST EXPERIENCE AND OUR INTERVIEWS OF LIVING GURUS TO BE LIMITED, WE READ WIDELY IN BOTH INDIA AND THE U.S. TO FIND COMMENTS BY OTHER GENUINE AUTHORITIES, AND QUOTED SOME OF THEIR MOST INCISIVE STATEMENTS (with careful attention to fair use word limits). These luminaries include Sri Aurobindo, Anandamayi Ma, Ramakrishna, Ramana Maharishi, Amritanandamayi, Gurumayi Chidvilisananda, Baba Hari Dass, Swami Rama, and others.
.
FINALLY, WE SPENT MANY HOURS EXERCISING THE WRITER'S CRAFT.  WE SOUGHT TO WRITE AN ENGAGING BOOK THAT BEGINNERS CAN UNDERSTAND AND ENJOY, AND THAT EITHER AN ADVANCED YOGI OR A PSYCHOTHERAPIST WITH AN ADVANCED DEGREE WILL FIND INFORMATIVE AND USEFUL. BON VOYAGE!